Caterina Bianchini
Caterina Bianchini, is a multi-award winning (there are genuinely too many to list) designer and art director based in London. With design, as well as creative and art direction among her talents she is excelling far beyond her years. Her design is so distinctive it will stick in your mind all day, with experiemantal typography and soothing colour palletes making up her signature style. Cove came to know Caterina's work through her poster series for Room for Rebellion, a DJ collective running clubnights and events that fundraise for the Abortion Rights Campaign. Cultivating a very loyal social media following, Caterina frequently shows unused and test work alongside finised pieces giving an accurate depiction of graphic design as a process, and not always a means to an end. Working both freelance and within her own studio she is never someone stuck for something to do, but she found a spare moment and was kind enough to let Cove pick her brain.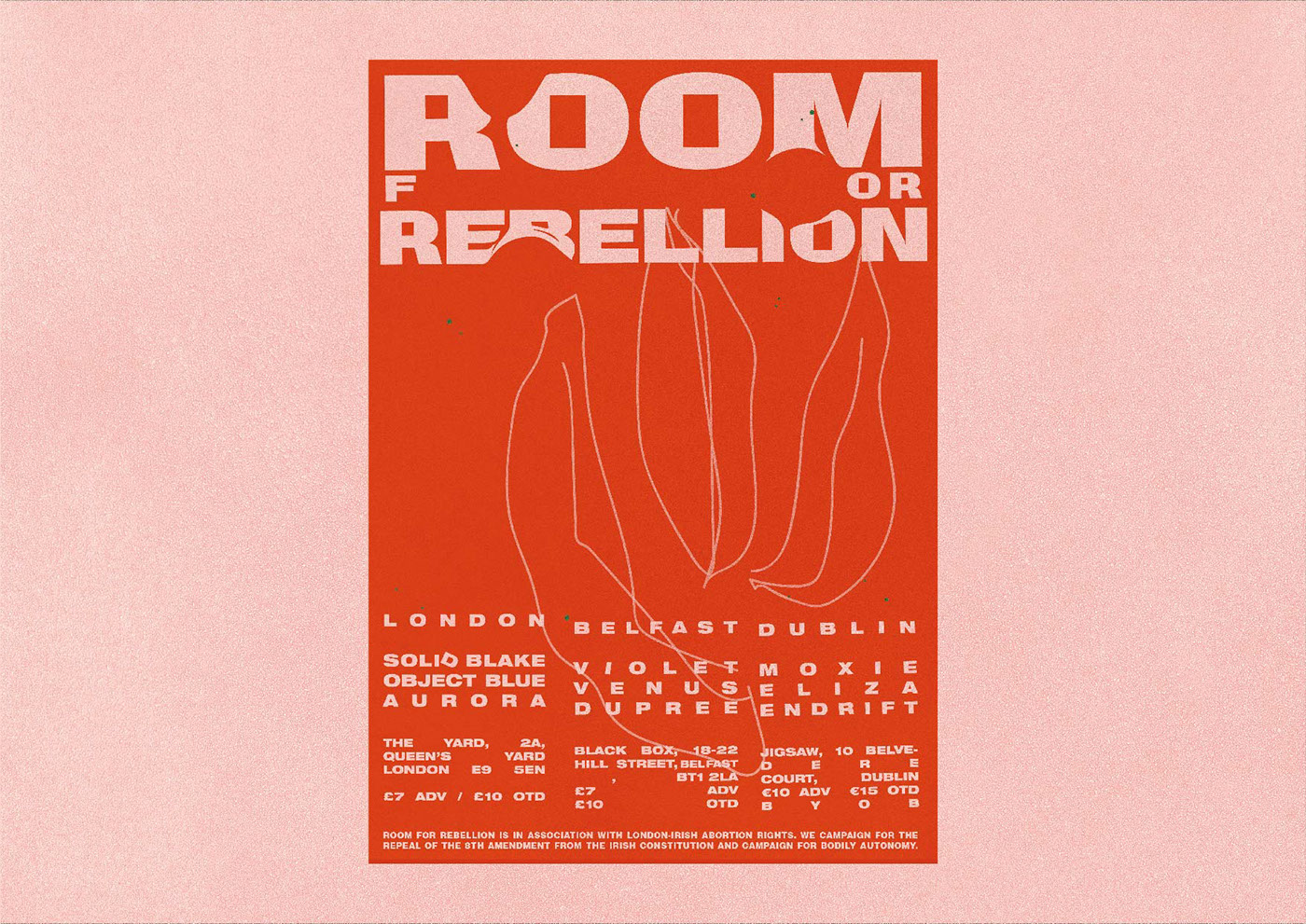 Cove: You began in Photography before continuing into Visual Communications, have you found that this has influenced your design style? Does one inform the other?
C: Yes, I started with medium format and film photography. It was great because it taught you to get things right in the first take. A roll of film only has so many exposures and each of them are precious so I think it made me more conscious of composition. Composition is obviously also very important in graphic design, so maybe in some way, it did influence my design. I don't relate a lot to photography when collating reference and research for a project but it is something that still really interests me.
Cove: When sitting down to a blank canvas do you have a particular routine or way you approach a new project?
C: This is really hard, sometimes when I get a project in I just instantly have a feeling for how I want to execute it. This especially happens with poster work. A lot of the time when I work with brand identity projects I begin by looking through books. I prefer to draw inspiration from a dusty old book or art rather than online sources. I always start projects by doing some research, visual and strategic from here I work up territories for the work and think about themes. I find that working in this way allows for the work to be more informed and have a better story behind the creation which makes it more memorable.
Cove: Comparing your style and process while studying/recently graduated vs now, how do you feel working in the industry has changed them? How much of what you learned at university do you feel is still relevant to your practise?
C: At university, I was given a lot of time to experiment. I was able to focus on life drawing and practice things that were more messy and arty and this I really miss. I think this time for experimentation allowed me to develop my style. I practice this experimentation still in my poster design work, where I feel I can be a lot more free with my approach. But in terms of learning actual design programmes, I taught myself everything I know now, I used to sit on after effects and on illustrator and basically go through every function possible to get used to what they could do, I also used to study contextual studies at university and this allowed me to understand art and design history, this is something I still reference heavily within my work, so again for that module I am grateful.
Cove: You have created projects surrounding topics such as the women's march and pro choice movements, how important do you think art and visual communications are within activism?
Really important, I think posters have been around for decades and will be around for many more years to come. Art and posters are the easiest way to communicate without having to use speech. I think its so interesting to understand how people perceive colour, image and type as well and I think posters are a good way of allowing people to make those judgements. The reason I work on some selected pro bono designs are because I care about what I am creating the work for. I am not much of a vocal activist and don't always know the full ins and outs of these huge topical issues but I find that by contributing in the way I know best (artistically) I am at least doing something for the organisation and the cause.
Cove: How did your most recent series with Room for Rebellion come about?
Well, I used to work in a music company and that is where I met Isis O'Regan, who is one of the founding members of RFR. She got in touch one day and asked if I would be interested in working on the poster for their next event. At this stage, I didn't know much about Repeal the 8th and was unaware of the referendum on the 25th of May. This project exposed me to a lot of information surrounding the cause and allowed me to get involved with it all. After RFR I ended up doing a lot more work surrounding Repeal the 8th for organisations like 50 years of choice and CRACK magazine.
Cove: Do you enjoy creating a visual identity for brands and different projects? Do you have a favourite type of project to work on?
I love working on poster work as it is always my most expressive work, it allows me to be as arty as I want to be and also try out new styles and techniques that interest me. I also love working on brand identity work as it is quite research led and I like thinking about design in a more conceptual way and building stories around certian brands. I also think it is a great feeling working with a brand from beginning to end and seeing how it has evolved over the period in which you have been working with it and how it continues to grow. It is also interesting to see how people interact with it. I also really love packaging, I think with packaging projects I love how physical they are, its a beautiful box you can keep forever or go into a shop and see on a shelf.
Cove: Have there been any lessons you've had to learn the hard way that you could tell us about?
Hmmm, I'm not really sure about this. I think when I first started design I was so full of ambition and knew where I wanted to get to that I tried to maybe run before I could walk. So I would take on these enormous projects or quite senior roles and just end up really stressing myself out and putting a lot of pressure on myself. I think when you do this the work suffers because you don't have lots of time to research and conceptualise the work starts to loos its quirk and interesting design motifs. So I think one thing, is don't take on huge amounts of work at once and try to really think about what sort of designer you want to be and be percieved as by others. I think if you take design work on to just pay the bills, then this will be the sort of work and clients you attract. If you take on projects with lower budgets but way more creative freedom, you put yourself in a category where people start to recgonised and appreciate your work more.
Cove: Do you have any exciting projects coming up?
Oh I always have some exciting stuff going on. I have some interesting brand work going on, one client is a beauty company in Korea, bubble tea in San Francisco, a meditation company in London and an interesting new exercise concept company in London (can't really say any more) a new hotel, similar to shoreditch house/the ned vibe. Then I always have my music work going on, posters, EP covers etc, I am just about to work on a series of tape cover designs which is pretty cool. Charity work wise, I am taking part in an auction for two charities actually, which are both Nepal based. This is in partnership with Ogily and Mather, and will take place in the Sea Containers around the 20th of May. I have also done 5 different posters for each edition of the new CRACK May issue (London, Manchester, Bristol, Berlin and Amsterdam) in support of the referendum, so keep your eyes peeled for that. I also just sold my only ever printed prints (I have never sold prints before) for Radio Zataari, a radio station set up for the refugees in Jordan, we sold 5 prints and made £260 which is great! They have a kickstarter page going on, so check it. Lastly I did designs for 50 years of choice which have contributed to their recent exhibition in Shoreditch and I think they are producing a publication with all the submissions in the future.